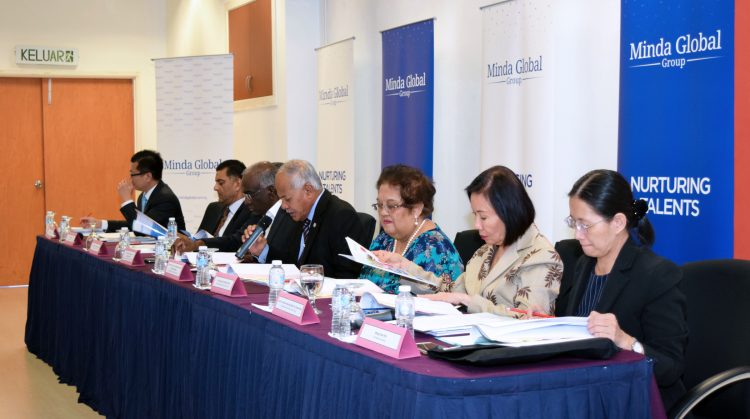 Minda Global Expecting to Reap the Benefits of Operational Synergy
Minda Global Expecting to Reap the Benefits of Operational Synergy
Listed company shares updates on its ongoing turnaround plan at its inaugural AGM
Cyberjaya, 27th June 2018 – Minda Global Berhad's Group Managing Director & Group Chief Executive Officer, Tan Sri Dato' Dr R. Palan today gave the company's shareholders a summary of the private education landscape and how the newly listed company was charting its path in a competitive field.
Minda Global Berhad which joined the Main Board of Bursa Malaysia (Stock code: 5166) on 19th February 2018 seeks to be a reputable private education provider in the region. The group which comprises of a university, a university college, 3 colleges and an international school has a footprint in 7 states and offers a full range of private education from primary to tertiary education. Minda Global Berhad reported a loss of RM 156,695 for the period from 23rd November 2016 (date of incorporation) to 31st December 2017 mainly due to corporate exercises.
Speaking at the company's inaugural Annual General Meeting, attended by over 34 shareholders, Tan Sri Dr Palan outlined some of the key actions taken by management to achieve organizational efficiency and financial strength. The group which has been focusing on a turnaround plan for Asia Metropolitan University (AMU) had acquired Cyberjaya University College of Medical Sciences (CUCMS), a move that is expected to benefit the group through synergy in branding, marketing, logistics and shared expertise.
CUCMS which is a leading healthcare university and rated 5-Star by the Ministry of Education reported positive growth in new student enrollment for 2017 and the launch of several new programmes. The university, whose campus is currently operating at maximum capacity, is also expected to move into its new, purpose-built campus by mid-July 2018 which will fuel its next phase of growth.
AMU also reported the launch of its new Cyberjaya premise which will operate along with its existing Johor Bahru and Cheras campuses. The new premise is timely as it coincides with the soon to be launched Accounting and Information Technology programmes. This is part of the group's move to expand AMU's programme offerings and venture into new areas.
Dr Palan shared his confidence that AMU's new premise in Cyberjaya along with its recent investments in enhanced facilities and new programmes should be able to attract more students. The group has also invested in new data-driven marketing operations which will result in better return on investments for marketing campaigns while improving sales and student enrollment processes.
Some of the key success at CUCMS such as the strengthening of pathway programmes namely diploma and foundation programmes are expected to be emulated by AMU in its efforts to increase student enrollment.
"This is where the group synergy comes into play as all three Asia Metropolitan Colleges in Kuching, Kota Kinabalu and Kota Bahru as well as the Asia Metropolitan International School play an important role as pathways to the degree programme in the 2 universities", said Tan Sri Dr Palan.
Other areas of joint benefits will include joint exploration of new international markets and sharing of knowledge and expertise between both universities. "CUCMS has over a decade of educational excellence under its belt and it has been rated an Excellent institution by the Ministry of Higher Education for three times in a row. AMU can now tap into CUCMS' knowledge pool and this will directly benefit AMU students as well" added Tan Sri Dr Palan.
The shareholders present all voted to re-appoint members of the Board of Directors including General Tan Sri Dato' Seri Mohd Shahrom Bin Dato' Hj Nordin (Rtd), the former Chief of the Malaysian Army as the Chairman of the Board, Tan Sri Datuk (Dr.) Rafiah Binti Salim, Malaysia's first female Vice Chancellor of University Malaya and former Assistant Governor of Bank Negara, Professor Colonel Tan Sri Datuk Wira Dr Hj Mohd Shukor Bin Haji Mahfar (Rtd), former CEO of the Inland Revenue Board, Dato' Esther Tan Choon Hwa a highly reputable and capable accountant, leader and former "Woman Entrepreneur of the Year" as selected by the National Association of Women Entrepreneur Malaysia, Mr. Sanjeev Nanavathy, who had been the longest serving CEO of Citibank Malaysia and Tan Sri Dato' Dr R. Palan, a lifelong educator, entrepreneur and Chairman of SMRT Holdings Berhad.